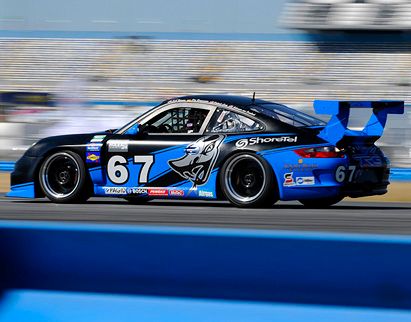 January 28, 2010
- Daytona Beach, FL - Patrick Long qualified the No. 67 TRG/Flying Lizard Porsche seventh in GT for this weekend's Rolex 24 at Daytona, the season-opener for the Grand-Am Road Racing Series. Joerg Bergmeister, Johannes van Overbeek and Seth Neiman will team with Patrick in the ShoreTel/Openwave-sponsored Porsche GT3 cup car for the 24-hour endurance race, January 30-31, 2009.
Patrick commented, "We've been totally focused in practice on race balance setup. We decided to make some radical changes before qualifying and they didn't pay off as we had hoped. The Mazdas clearly had the pole in hand. But with the progress we've made today and with tonight's practice we'll have a very balanced car for the race. Seventh is a respectable starting position: we've got a 24-hour race to win and I'm confident that our setup work will pay off this weekend."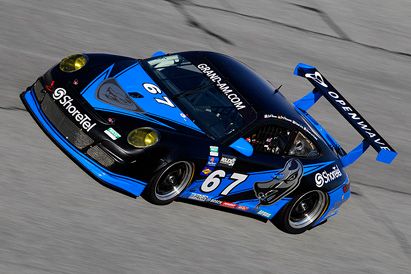 Patrick Long and Bergmeister return to Daytona with the goal to repeat their GT win here in 2009 (with TRG). Bergmeister has won three times at the Rolex 24: in 2009, in 2003 (GT and overall) and in 2002 (GT), all with TRG. Bergmeister was also the Grand-Am Daytona Prototype champion in 2006 (with Krohn Racing). Bergmeister and Long are Porsche factory drivers and will be co-drivers in the Flying Lizard No. 45 Porsche for the 2010 ALMS season. With Flying Lizard, the duo won the 2009 ALMS GT2 drivers' championship.
Read more at this link on Flying Lizard Motorsports' website.
News and photos used with written permission from FLMS, no reuse without their permission.