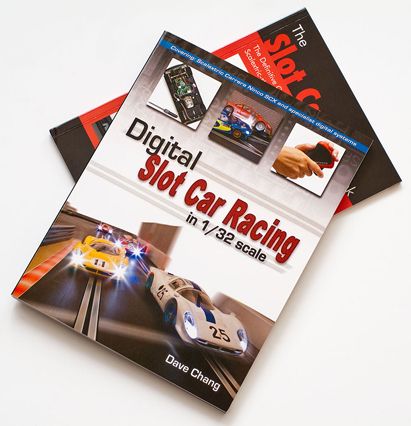 New book released: Digital Slot Car Racing in 1/32 Scale, by Dave Chang.
Published by Crowood Press November 2011
ISBN-10: 184797306X
ISBN-13: 978-1847973061
Digital technology has transformed the world of slot car racing giving you an experience closer than ever to real motorsports! You can now run more than two cars on two-lane circuits, overtake and use racing tactics.
At the same time it brings a bewildering array of new systems, accessories and technology.
For the first time, everything you need to know about digital is presented in one book with all the information clearly organised and fully illustrated with over 330 colour images.
'Digital Slot Car Racing' presents 209 pages of detailed information including how digital racing works, what it offers, how to get the most from it and how to understand and choose between the different systems available.
Dave Chang (author of the successful 'Slot Car Handbook') has spent two years researching and writing the new book, with extensive hands-on testing, support and information from manufacturers and distributers, and advice, experience and opinions of hobbyists and digital enthusiasts.
The book will appeal to both newcomers and experienced hobbyists providing details of everything you need to know.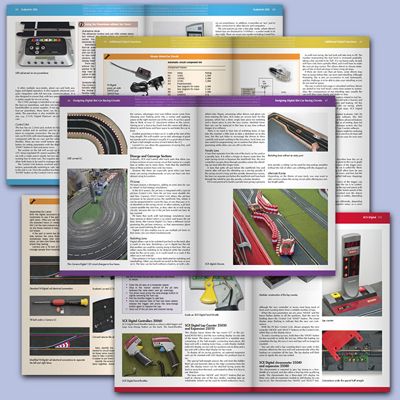 Featured within:
• In-depth coverage of all the major systems Scalextric, Carrera, SCX and Ninco
• Full details of advanced systems Davic, oXigen, Scorpius, Slotfire, BLST and routed digital
• Advice for people new to slot car racing and for those wishing to upgrade from analogue systems
• How digital slot car racing works
• How to design perfect digital racing circuits
• How to conduct digital races
• How to keep digital system in tip-top condition
• DIY projects to customize digital system and cars
More details can be found at http://www.theSlotCarHandbook.com. The book is available any day now at £18.99 + p&p from the website, as well as from good model shops, bookshops and online book outlets (Official release date was 21/11/2011, bit apparently there have been some minor shipping delays).
Paperback. 209 pages. 24.6 x 18.9 x 1.3 cm.